You are currently browsing articles tagged Free stuff.
Grab a sticker!
Want to make stickers too? Download our sticker template:
Tags: awesomeness, Free stuff, Services, staff project
Finding a good, usable typeface is hard work. I always feel bad using an unlicensed font or one I downloaded for free. Someone worked really hard on that typeface; they should be recognized and compensated for it. Also, I hate it when you find a font you like but can't embed it (we see this all the time at the SB). On the flip side, I am also pretty stingy, so paying top dollar for a typeface I'll use maybe once or twice isn't really an option.

Enter The Lost Type Co-op. Created by designers Tyler Galpin and Riley Cran.
From The Lost Type Co-op website:
"…originally [created] in a whirlwind 24 hour adventure to distribute a single typeface, Lost Type has blossomed into a full fledged foundry, distributing fonts from designers all over the world, with its unique model. Users have the opportunity to pay whatever they like for a font, you can even type in '$0′ for a free download. 100% of funds from these sales go directly to the designers of the fonts, respectively."
So download some sweet fonts. Chip in what you can. Everyone wins.
Tags: awesomeness, design, Free stuff
The Kinematic Models for Design Digital Library is a site housing a free repository of amazing, mechanical 3D models just waiting to be printed. Cornell's Sibley School of Mechanical and Aerospace Engineering holds the Reuleaux Collection of Mechanisms and Machines, an important collection of 19th-century machine elements; many of these examples have been recreated as 3D models which can be reproduced on 3D printers like the AOC's Dimension SST 1200.
This site is an amazing example of what the future of design and production may hold: the ability to simply download the description of an object or device, and produce it on-site using your own 3D printer.
Below is an example of one of the dozens of models available at KMDDL:
Pappus of Alexandria (3rd century AD) a Greek mathematician, is credited for an early version of the endless screw. In this model, the rotation of the horizontal screw turns a gear about an axis perpendicular to the screw axis. This mechanism was also used by Leonardo da Vinci as a component in many of his designs for machines.
via the Dimension 3D Printing site:
Visitors to Cornell University's online digital library and museum of kinematic mechanisms are beginning to discover its exhibits of more than 300 historical models of 19th-century machines. Cornell University's Sibley School of Mechanical and Aerospace Engineering owns the largest set of Franz Reueaux's kinematic mechanisms in the world. The school acquired these cast iron and brass models in 1862 and has them on display throughout the department.
In a collaborative effort and supported by funds from the National Science Foundation as a National Science Digital Library collection and also funds from the Institute for Museum and Library Services, Cornell University faculty and librarians developed The Kinematic Models for Design Digital Library (K-MODDL), which is an open access, multimedia resource for learning and teaching about kinematics — the geometry of pure motion — and the history and theory of machines. The K-MODDL team is using a Dimension 3D Printer to reproduce physical models from digital files. STL files for several models are available for download at the K-MODDL web site, allowing users with access to a 3D Printer to download, print, and interact with their own fully functional physical replicas.
Tags: 3d, Free stuff, rapid prototyper, technology
So recently I had the chance to test out a new plug-in for Rhino. VSR Render is a real-time renderer which has the ability to deal with reflectivity better than rhino render and has some environmental mapping tools. These features make it a better render program to use in place of the default Rhino Render.
So, in the screen shot above you can see a model of a mouse that was supplied with the VSR Render Wizard. In the standard shaded view we have no reflectivity options and flat gray shades (unless you change layer color).
In the shot above I flipped on the Rhino render. This is how it looks while still in the viewing plane. Now we have some material shades assigned and can even apply textures to the object, but it still looks pretty plain looking.
The rendered view from Rhino render yields a very similar result to the render we saw while still in the viewing plane.
What you see above is the rendered view with VSR Render enabled. I've not done anything to this object to alter the appearance once the file was opened. So what you see is what VSR Render does to a model by default. You'll notice the reflectivity to a ground plane (which is added as part of the environment map) as well as a nice lighting setup for the shot as well. This is all done live. So if I move the model around it updates on the spot, whereas some renderers require you to re-render the shot before updates take effect.
Now that VSR Render is enabled we can open up some of it's control boxes and manipulate what we have in the render window. You can select individual materials assigned to the object and make them transparent, add reflectivity, refraction and shininess.
So with this control box we can load in our own images to use as backgrounds. It allows you to use a cube, sphere, or cylindrical shape for the image to be mapped to.
In the environmental mapping tool we can also adjust the ground plane. In this case I made it slightly reflective and made sure it was set to receive casted shadows.
So overall this tool  can be pretty useful if you wish to see how your object will look inside of an environment or just want a live render view that is able to give a more detailed output much quicker than rhino render. If you want to test it out, it is currently free (as it is still in Beta) at VSR Render. Now, because it is still in Beta mode, there are currently no help documents, so if you want to try it you'll just have to mess around and figure out the features on your own.
-Mike
Tags: Advanced Output Center, awesomeness, Free stuff, render, rhino, technology, vsr render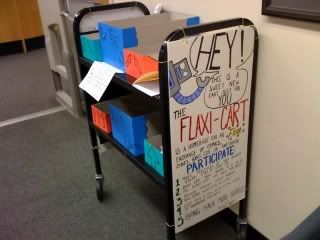 The Service Bureau has teamed up with the Flaxi-Cart to offer free prints for zines intended for the Flaxi-Cart. Make 1 copy of a book for the cart, get 4 free (after rebate).
"The Flaxi-Cart is a homebase for a free exchange of zines, comics, books, cds or anything. For about two weeks, from April 27th until May 12th a library cart will be placed outside of the gates in the Flaxman library. On this cart will be empty bins encouraging students, groups and faculty to drop off multiples of zines, comics, books or cds. The idea would be if you take zines you should leave zines too. How to participate:
step 1: make sweet books, comics, zines or cds
step 2: make multiples of those (try at least 5)
step 3: drop them off at the Flaxi-Cart
step 4: browse through the Flaxi-Cart for something you'd like!
step 5: come back later to drop off more!"
For more information on this offer please stop by the Service Bureau. To pick up a zine or to check out the Flaxi-Cart, visit the Flaxman library.
Tags: Flaxi-Cart, Free stuff