You are currently browsing articles tagged staff project.
Grab a sticker!
Want to make stickers too? Download our sticker template:
Tags: awesomeness, Free stuff, Services, staff project
We love decorating the Service Bureau for Halloween. Check out this PAC MAN garland we made for the front window:
We made it from this tutuorial using Deep Orange and Vellum Cardstock from our Sale Papers (50% Off! What a steal!) and a few extra paper clips we have lying around.
Our student worker Tayler loves Halloween, stop by on Friday to see her crazy costume! (Also, we have a very life like jack-o-lantern)
Finally, a cache of Canon printable paper crafts!
Tags: staff project
Tom Burtonwood, one of the faculty members of the school has been  busy on our laser cutters. Check out some of the stuff he's been working on. These are created using laser-cut plywood, masonite and pastel on paper. This is a great example to show the versatile use of the laser cutters if you put your mind to it.  Check out more pictures of his work here: http://tomburtonwood.com/2010/new-work-next-art-fair/. Also be sure to check out his blog at: http://tomburtonwood.com/
Tags: Advanced Output Center, customer work, Laser cutter, staff project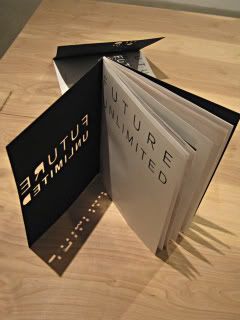 Our student worker, Ashley Townsend, participated in the Fall BFA show last month. For the show, I assisted her with binding some books. Ashley utilized services at both the Service Bureau and the Advanced Output Center. The covers were all laser cut on the front and back.
If you are thinking about making a book I would highly recommend considering laser etching/cutting your covers. They look really professional and this is a service that many people do not have the opportunity to use. Inside the book Ashley used a various array of papers that ranged from a basic bond to newprint. She even inserted Tabloid paper (11″x17″) for a fold out page. This project is a perfect example of what we can do that you would not be able to accomplish at a print on demand site like Lulu or Blurb.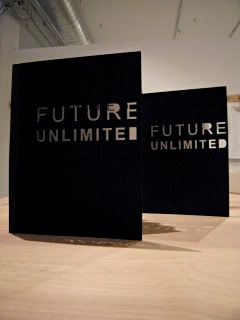 If you are thinking about making a book stop by the Service Bureau (located on the 11th floor of the 37 South Wabash building) We would be more than happy to go over your options for creating unique books.
-Meg
Tags: BFA Exhibition, Binding, Exhibitions, Laser cutter, staff project, student work
So I had this idea to create a custom-made arcade stick for one of the current generation gaming consoles. Taking a look at my options with controllers I decided the Xbox 360 had the easiest controller to deal with. So once I had figured out what controller I wanted to use, it was time to start designing this thing.
I dove right into Rhino to get the controller shell created.
Once I had the shell created, I printed it out on the Rapid Prototyper in white to match the Xbox 360 standard shell color. Now the fun part; rewiring the 360 controller to fit into this shell.
Starting off I, gutted the 360 controller and then I wired into the new shell the attachments for power (top of shell) and headphone jack (bottom).
From there, I wired up the controller to extend the analog stick away from the circuit board (as seen below). I also added an extension on the battery as well.
Now that the controller analog stick was extended, it was time to place it into the shell and work on wiring up the buttons.
With the contents in place I had to figure out a way to get the buttons to rest above the circuit board and be able to be pressed down by prototyped buttons. What I did from this point was cut out a piece of acrylic on the laser cutter and designed it so it could slip over the pegs and rest above the circuit board.
Now that the wiring was complete, it was time to test the controller. I went home and promptly booted up my Xbox…but the controller would not connect wirelessly. No problem, I have a usb connection for it. So I plug the cable in and reboot my Xbox. The result it not what I expected… Red Ring of Death. Oh no! I panicked at that point and promptly unplugged it fearing I had ruined my system. I rebooted the system and to my relief it works just fine. That means there was a problem with the controller itself. I figured using a wireless controller was going to be too difficult with this project, so at this point I'm in the process of using a wired version as I won't have to deal with a battery (which could have caused the problem).
Stay tuned for more as this project begins to make some real progress!
-Mike
Tags: Advanced Output Center, rapid prototyper, staff project