Posted in Hot Jobs on Wednesday, May 1st, 2013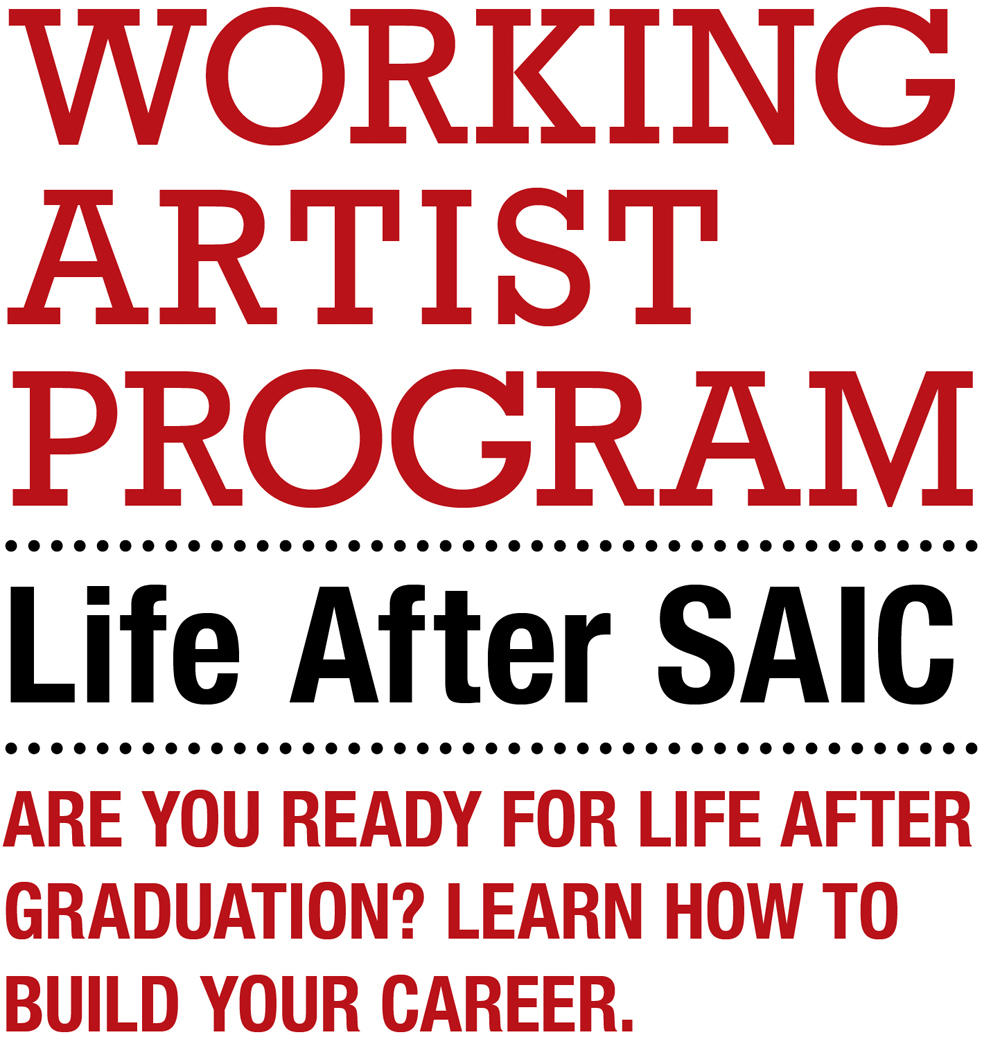 posted by Aimée Starck, Assistant Director, Career + Co-op Center
Whether you're participating in the Spring 2013 Commencement Ceremony or you have a few years remaining at SAIC, it's important to start preparing yourself and making plans for life after school.  You might be considering a move, a new job, or perhaps you aren't exactly sure what's next, and that's okay.  Thankfully, we are now in a time where your success does not depend solely on your talents and location as it may have in the past, but on the way you present and connect yourself with others in your community and beyond.  There are countless opportunities and methods to go about doing so and we're here to help navigate you through them.
During the week of May 13th, the Working Artist Program is presenting events to help craft, finesse and refine all of the skills necessary to be prepared to enter the "real world" and feel confident in doing so.  Check out the series topics below and register here.
posted by Aimée Starck, Assistant Director, Career + Co-op Center
LinkedIn.
You probably have heard of it, but you may not know what it is exactly.  My colleagues and I at SAIC's Career + Co-op Center are here to tell you that it's probably the most important networking and job search tool out there at this very moment.  We'd suggest that you start a profile immediately, if you don't already have one.  Check out this infographic to learn why.
The numbers are shocking!  97% of Human Resource employees are looking to LinkedIn to connect with potential candidates.  Even if you are currently employed and not necessarily looking for a new position, LinkedIn is a great way to see what's out there, explore where your contemporaries are working, and remain up-to-date on current trends in industries of interest.  With all of the different social media platforms out there to choose from, why not spend a bit of time on the one that could propel your career?
If you have questions about LinkedIn, see an advisor at the Career + Co-op Center anytime.  Schedule an appointment here.
posted by Danielle Campbell, Peer Advisor, Career + Co-op Center
On Wednesday, March 6th, SAIC MFA Alum Edra Soto came to speak about how to fund and sustain your practice as part of our Working Artist Program series. Soto is a Chicago based artist who has exhibited nationally and internationally. Her works range from paintings to sculpture to large scale installations. Her most recent project is The Franklin, which is an outdoor gallery located in East Garfield Park which allows artists, curators and designers to engage with the community. Take a peek at her CV to see how she's been funded and check out this video to get some quick tips from her about how she does it.
Get info on future Working Artist Program events as well as events for the Career + Co-op Center here.
« Older Entries