Hot Jobs »
post by Jesse H. Laier
The demands of the market change. The only way to keep up with the demands is to pay attention to the market and accumulate as many skills as you can. Computers and graphic design are big currently. You're more likely to land a job if you know certain programs such as WordPress, Adobe Creative Suite, and Microsoft Office.
Physical skills are making a comeback in the United States. I already highlighted how factory work is in demand.  According to a Business Day article in the New York Times, factories are now desperately seeking people to sew their goods.  This has coincided with a change in American culture. Americans are growing more conscious about the process in which the goods they purchase are processed. This is evidenced in farm to table movements in restaurants across the country.
Businesses need people to sew their goods because of a higher demand for American made products. This is good for numerous reasons, which include offering more jobs to the American public, and allows for smaller businesses to compete with major retailers.
This is why having diversified skills is important. A job may open up in a field you hadn't considered, but because you have the skills to complete the job, you are able to land it. Receiving a job sewing doesn't mean you'll have to sew for the rest of your life, either. A skill is a key that opens up opportunities for more growth.
That is to say, don't be afraid to try something new. Your practice doesn't have to be all that you focus on. A hobby might be the experience that you need to find employment outside of school.
Click here to read the New York Times article.
posted by Jesse H. Laier, Career + Co-op Center
photo from ibtimes.com
The public perception of factory jobs is not kind. Years of television images of characters going in and out of dark, dreary buildings blowing clouds of thick, black smoke into the air have dampened what was once a budding industry in America.
"Why would I ever want to work in a factory?"
According to the Wall Street Journal, the manufacturing industry is in dire need of new employees. The number of students seeking engineering degrees in America is miniscule compared to the rest of the world, with U.S. students making up only 4% of engineering degrees worldwide. The only country with a smaller percentage than the U.S. is Brazil with around 2% of all engineering degrees.
What does this mean for a student at SAIC?
It means even in this down economy there is a job market rife with opportunities for art students. As the past generation retires, companies are struggling to find people to replace them. They need people who can use their hands whether it is for machine maintenance, product construction or simple jobs like cutting.
Are you a Designed Objects major or have you taken Designed Objects classes? Do you manufacture objects for your installations?
Then you have skills that the Manufacturing field needs.
Make an appointment here with a Career Advisor at the Career + Co-op Center to get help with constructing your resumé. We'll help you highlight your skills to land a manufacturing job.
Read the full Wall Street Journal article here.
Posted in Hot Jobs on Wednesday, May 1st, 2013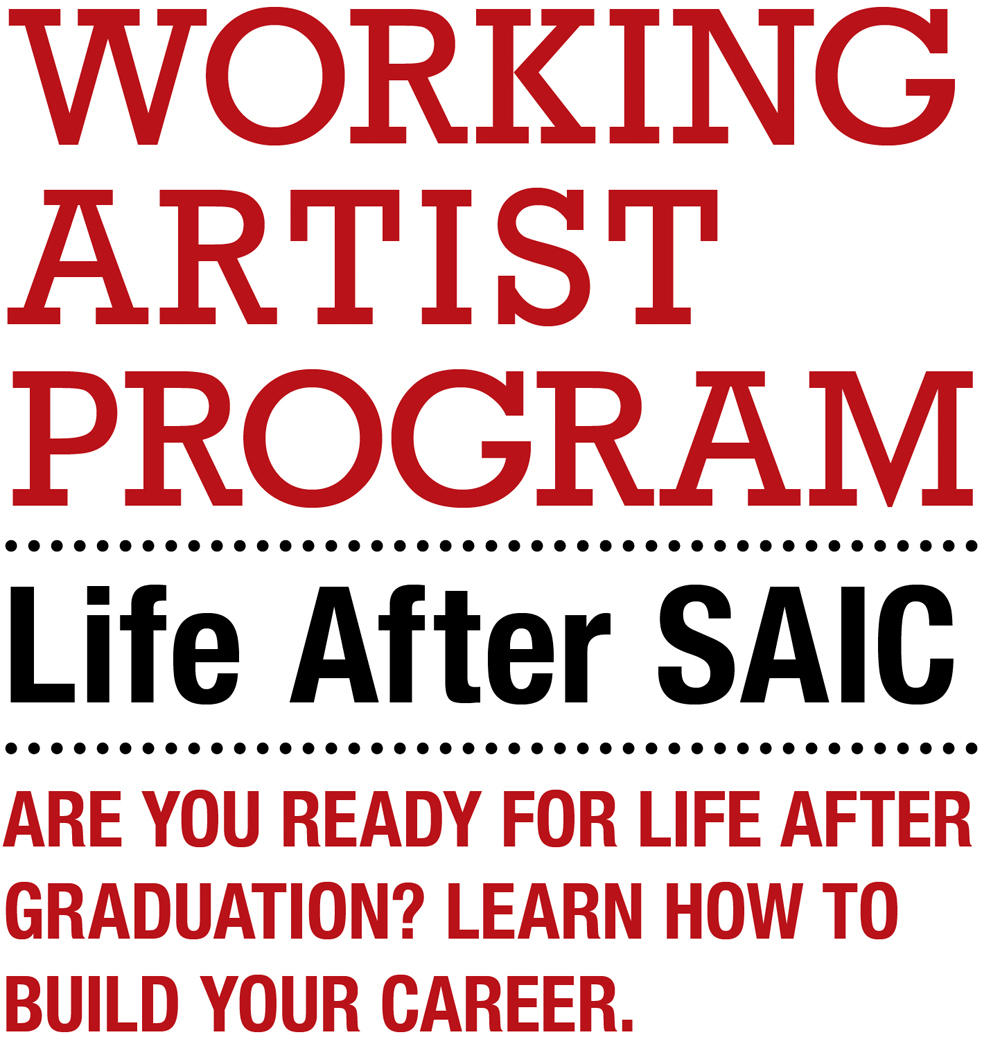 posted by Aimée Starck, Assistant Director, Career + Co-op Center
Whether you're participating in the Spring 2013 Commencement Ceremony or you have a few years remaining at SAIC, it's important to start preparing yourself and making plans for life after school.  You might be considering a move, a new job, or perhaps you aren't exactly sure what's next, and that's okay.  Thankfully, we are now in a time where your success does not depend solely on your talents and location as it may have in the past, but on the way you present and connect yourself with others in your community and beyond.  There are countless opportunities and methods to go about doing so and we're here to help navigate you through them.
During the week of May 13th, the Working Artist Program is presenting events to help craft, finesse and refine all of the skills necessary to be prepared to enter the "real world" and feel confident in doing so.  Check out the series topics below and register here.
« Older